Does your vehicle need valeting inside and out?
Shones mobile car valeting are a qualified and experienced team of professionals who are capable of valeting any vehicle on a commercial and domestic level. We are fully insured to ensure the safety of your vehicle and we use a special self-contained van .
As we are a mobile valeting company, we can come to you wherever you are between Wirral and Wrexham.
We use paint glaze and upholstery treatments that are approved by leading car manufacturers.
No job is too big or too small for Shones mobile car valeting. So whether it's your personal vehicle that you'd like to have valeted, or you have a large selection of commercial vehicles, contact us today.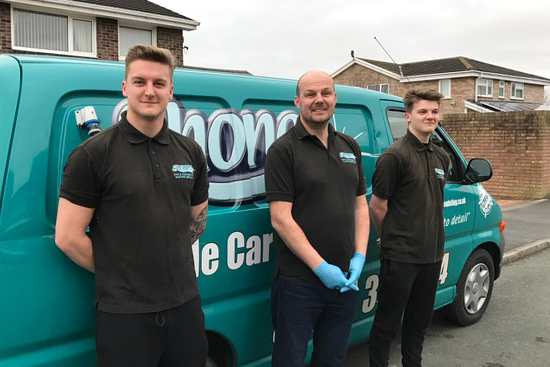 Don't put up with your dirty vehicle anymore…
Whether you have a car, van or a truck Shones mobile car valeting car valeting your vehicle wherever you are
Our mobile self-contained van allows us to come to you and carry out all of your valeting requirements. We have our own electric and water so you don't have to provide us with anything.
Why choose Shones for your vehicle valeting?
Fully trained and experienced.
Qualifications include Stage 1 and Stage 2 Certificates in Valeting.
Competitive pricing.
Mobile Valeting.
Ozone friendly products.
We come highly recommended.
Commercial valeting availabe.